At Tire Stickers, we offer high-quality tire lettering for permanent and temporary situations so your ride can really represent. But you might be asking yourself, "What are Tire Stickers made of?" "Why are they called stickers?" and "Do stickers last?" and "What are the best tire letters?"
Well, these ain't the stickers you played with as a kid. Allow us to break it down.
What Are Tire Stickers Made From?

Tire Stickers has official partnerships with tire and automotive brands that trust us to represent their product. That means quality and reputation come first.
Not only are our products made to work, they're proven to work.
Tire Stickers Permanent D.I.Y. Tire Lettering

Our permanent product is a patented, proprietary dual-compound raised rubber.
The base layer provides shock absorption as well as barrier protection against the migration of oil and chemicals from the tire sidewall. The surface layer is a UV- and stain-resistant and cleanable layer especially using our Tire Stickers Rubber Bright Cleaner.
These two layers are applied to the sidewall with our specialized adhesive which vulcanizes the rubber label to the tire sidewall similar to a tire repair patch. This establishes a permanent bond that can withstand the harshest conditions, even tire retreading operations.
To make it simple, we've found a way to basically make Tire Stickers become one with the tire. They aren't going anywhere.
If you've happened to have stumbled upon another 'tire lettering' company, BEWARE! Tire Stickers is the only tire lettering company used by professionals, which means our products have been quality and safety tested.  Unlike the 'other guys', that means no damage to your tire integrity that will risk a blowout and ruin the sidewall.  Some may claim to be official, the originators, or the largest manufacturers but in fact they are all simply knockoffs.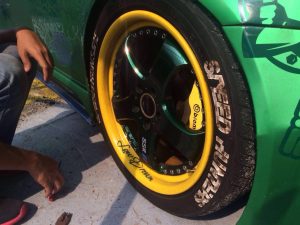 It's no joke. When you need something that lasts longer than the tire itself, you want Tire Stickers permanent tire lettering.
Tire Stickers Peel-And-Stick Tire Lettering

Our peel-and-stick patented product is a rubber-based elastomeric ink with a pressure sensitive adhesive which makes application quick and easy, but the product still durable to withstand top performance conditions like Indy Car racing and Stadium Super Truck racing.
You read that right. Those stickers in your scrapbook and vinyl material are just going to fly away at 100mph, but your Tire Stickers won't. This product is used by all of the top brands in motorsports: Toyo, Nitto, Dunlop, Michelin, etc.
Call them stickers, decals, tire letters, whatever you like, but Tire Stickers are made of some tough stuff. Keep an eye out for those off-brand tire letters -- they can't say the same.
When you want something that you can show off for an important event, photoshoot, or you just like mixing your look up now and then, Tire Stickers Peel-and-Stick tire lettering is the way to go. With proper cleaning of the tire sidewall (and the tire's natural chemicals), your Peel-and-Stick Tire Stickers will last about a month but are really intended for a short term use.
The Original and Only Official Tire Lettering
Don't let the word "stickers" fool you; Tire Stickers' tire lettering is made from high-quality, tried-and-tested materials that are engineered for exactly the situations your car will encounter (and beyond).
Our track record is the best in the game for a reason. Our products are exclusively used by tire companies, motorsports team and automotive manufacturers for a reason. You won't have to tread lightly.
So what are Tire Stickers made of? The best tire lettering. The strongest tire decals. The official product used by professionals.
Do Stickers work for tires? You bet they do! 
Comments
comments