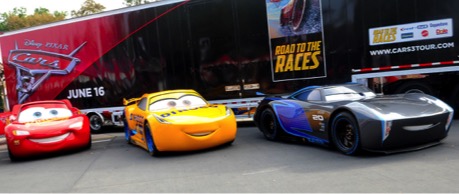 Disney-Pixar is back with another entry into the Cars franchise and Tire Stickers are all over it.
&nbsp
Cars 3 finds hero Lightning McQueen (Owen Wilson) pushed aside by cocky newcomer Jackson Storm (Armie Hammer) and a new generation of high-tech racers. McQueen must turn to one of his biggest fans, Cruz Ramirez (Cristela Alonzo), to stand a chance of returning to the track. Sounds like a real underdog story.
&nbsp
To kick off the film's June 16th premiere, Disney hired TransFX to build real-life replicas of the 3D animated characters. These guys have built things for feature films, theme parks, commercial projects, and the aerospace industry. They're the real deal and they needed the real details. That's where we came in.

Tire Stickers created some custom 'Lightyear' brand decals (like Goodyear, get it?), colored sidewalls, and more to help bring these characters to life. Talk about infinity and beyond! Bring on the Pixar puns.
&nbsp
These replicas are already rolling out for the nationwide, 27-city, Road To The Races promotional tour. What an awesome event for kids (and parents) who love these action-packed movies. Besides these impressive cars, there are also interactive activities, racing history and education courtesy of NASCAR, and a sneak peak of the new movie.

To find out if Lightning, Jackson, and Cruz are coming to a city near you, check out Cars3tour.com. You'll find the route-map and pictures from previous events there too.
We're so proud to be a part of it! We're also psyched to see the idea of tire decals gaining even more recognition. The more car-based movies, the more potential movie tie-ins, right? Speak of the devil, check us out in the new Fast & Furious movie, Fate Of The Furious, too!
&nbsp
And, of course, go see Cars 3, out now, to find out what happens to ol' Lightning McQueen. Does he make it back to the big leagues? Does he defeat Jackson Storm? No spoilers. Your kids are probably already begging you to go anyways! Let us know when they want the Lightyear Tire Sticker for their cars too.
&nbsp
If you do manage to catch a glimpse of the tour or film, be sure to hit up our Facebook or Instagram pages to share your experience (and your pictures). We love the feedback and passion all of you help create. Keep it up!
&nbsp
Who knows where we'll end up next?
Comments
comments