Stick around to the end of this article for an exclusive look at some exciting new tire tech: Cerebrum.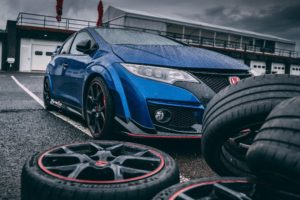 Tire Sensors Save Lives (And Gas)
Tire sensors like TPMS (Tire Pressure Monitoring System) are important safety, and efficiency, additions to modern vehicles. Basically, it lets you know if your tire pressure is too low. What's the big deal though? Plenty.
Turns out over 250,000 accidents, 33,000 injuries, and 660 DEATHS are caused by underinflated tires every year in the U.S. alone. Damn. TPMS alone is predicted to be able to prevent 20% or more of those injuries and deaths.
That's not even mentioning the 3.5 million gallons of gas wasted every day by inefficient tires.
Direct Versus Indirect TPMS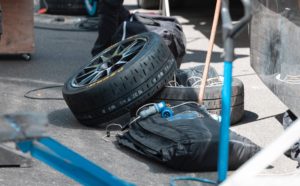 What's the difference between direct and indirect TPMS?
In short, direct TPMS gets real-time data directly from the tire valve, while indirect TPMS uses the ABS system to estimate the tire's pressure.
The problem with indirect TPMS is that it takes longer to alert you, needs to be recalibrated after the tire or pressure is changed, and requires that all four tires be inflated properly (and in optimum conditions). Plus, if all four tires are equally low the indirect TPMS gets tricked and you're not alerted.
The bottom line is Direct TPMS is more accurate, easier to control, and safer. Plus, it has more potential for data and monitoring as we'll soon see.
History of Tire Technology
TPMS (Tire Pressure Monitoring System) has been around since the 1980s, although it didn't make it stateside until the 1997 Chevy Corvette. In 2000, the TREAD Act made it mandatory in every new car, effective on all vehicles release post September 2007.
That's only the beginning though, the future has a lot more to offer.
Like Smart Tires (click to check out our previous article). The gist of it is that sensors placed directly inside the tire measure various things like temperature, pressure, and tire wear, the data from all tires are collected within the vehicle and then sent that to your phone via Bluetooth. These can be factory-fitted or retro-fitted. Rad.
How about something even better? Enter Cerebrum.
Cerebrum is the world's first intelligent tire solution utilizing revolutionary, patented sensor technology mounted directly to the tire.
It's a standardized, aftermarket solution so you can easily install Cerebrum's smart sensors to tires you already own.
Unlike traditional TPMS, Cerebrum sensors act as the complete tire "brain", providing a range of data including tire pressure, temperature, load, tread depth, and even alignment viewable at a glance through the handy app and backed up to the cloud. This data can be utilized to drastically improve vehicle performance, fuel consumption, excess emissions, and overall safety thanks to safety alerts like Blowout Detection.
Whether you're a casual driver, a weekend racer, a commercial truck driver, or a seasoned pro, Cerebrum is going to change your relationship with your car forever.
Cerebrum is the future and you're going to want to get in on this ride as soon as you can.
Pre-order now and get 15% off!
2019 SEMA SHOW GIVEAWAY
Visit our booth #50019 in the Performance Pavilion to compete in the XBox Forza 7 race simulator for your chance to win $1500 or a brand new set of (4) tires! If you can't make it to the SEMA Show, don't worry we've got you covered. We're running a second contest which anyone can enter through a few different methods, unlimited entries! Learn more here: https://cerebrum-sensor.com/pages/contest
Comments
comments