The 2019 SEMA Show is gearing up to be another great event. From November 5th - 8th, all the best and brightest from the auto industry will be under one giant roof in Las Vegas, Nevada. Be there or be square.
"The SEMA Show is the premier automotive specialty products trade event in the world. It draws the industry's brightest minds and hottest products to one place, the Las Vegas Convention Center. In addition, the SEMA Show provides attendees with educational seminars, product demonstrations, special events, networking opportunities and more."
It's THE destination for the auto industry and one of the best ways to supercharge your business. With so many auto professionals from around the world to network with, learn from, and show off for, there's really no other opportunity like it.
Plus, you get to marvel at all the incredible cars, innovative products, and awesome exhibitions.
Tire Stickers At SEMA 2019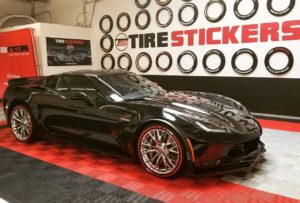 You know Tire Stickers will be there in full force. The inventors of tire lettering and only official global manufacturer with all the best partnerships. Come check out our products in-person for yourselves or just stop by and meet our awesome team!
You'll get an early look at some of Tire Stickers' 2020 innovations too.
Cerebrum at SEMA 2019
Our new sister product Cerebrum will be on display too. It's innovative, smart tire tech that can be adapted to any existing tire. Cerebrum's sensors provide advanced tire pressure and temperature data as well as tread depth, alignment and performance data. All through an app!
Everyone from everyday drivers to racing enthusiasts and industry professionals will have a big picture view of their driving and tire performance. 
2019 SEMA SHOW GIVEAWAY
Visit our booth #50019 in the Performance Pavilion to compete in the XBox Forza 7 race simulator for your chance to win $1500 or a brand new set of (4) tires! If you can't make it to the SEMA Show, don't worry we've got you covered. We're running a second contest which anyone can enter through a few different methods, unlimited entries! Learn more here: https://cerebrum-sensor.com/pages/contest
---
See you all at SEMA 2019!
#SEMA2019
Comments
comments