So you've got your rad new Tire Stickers installed, but how do you take care of them? Luckily Tire Stickers has you covered.
How To Maintain Tire Stickers
When it comes to prepping, cleaning, and reapplying your Tire Stickers, it's simple with the right stuff.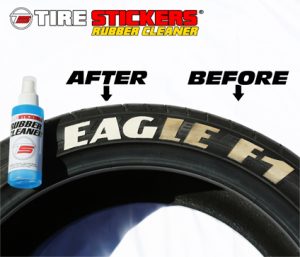 Tire Stickers Cleaner can breathe new life into your dirty Raised Rubber Permanent Tire Stickers, even after thousands of miles of extreme driving. Just give it a little wipe down with our specially made cleaning solution and you'll look as good as new. Lookin' good.
Flexement Adhesive is our tried-and-true glue to apply Permanent Raised Rubber Tire Stickers onto your whip. Let's say you ding a curb and one of your Tire Stickers tragically gets sheared off. Have no fear, just order a tire lettering replacement and apply that bad boy with our Flexement Adhesive. Crisis averted.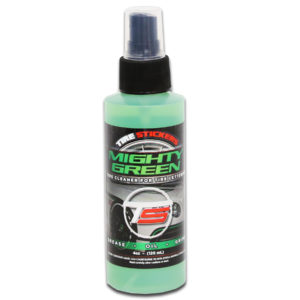 Don't forget about Mighty Green Tire Cleaner and Degreaser too! It's our patented solution to remove grease, oil, and grime from the tire sidewall when preparing to install your new Tire Stickers. It's a great alternative to Acetone and it uses biodegradable cleaning agents too. Safe and secure.
How To Enhance Tire Stickers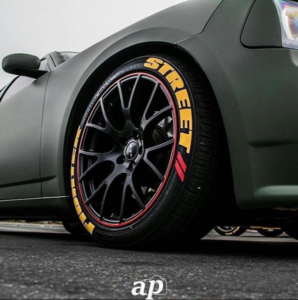 Tire Stickers are the best tire lettering around, but that doesn't mean they can't get even better!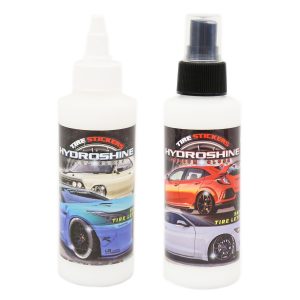 Hydroshine is all about that wet look. It's a water-based spray that can be applied on Permanent Raised Rubber Tire Stickers without damaging or discoloring your tire lettering. Because Hydroshine is oil-free, you can maintain that stylish wet look without putting the look of the Tire Stickers at risk. Did it rain out here or is it just you?
Hydroshine comes in Medium Gloss or Ultra Gloss so you can get the look you're after.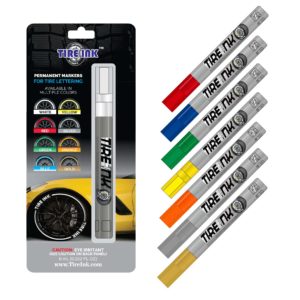 Tire Ink Tire Paint Pens are a simple way to touch up your tire lettering or quickly get that race ready look without going all out on our longer term, customizable products. We love flexibility when it comes to customization, whether that's at the races or the car show or just chilling on your block, which is why we developed Tire Ink to get a colorful accent on your tires at an affordable price.
Our Tire Ink Tire Paint Pens last several weeks with proper preparation. It's car wash and power washer safe, has a 2-sided reversible tip, and comes in 8 different colors! Get a couple and throw them into your glove box for those emergency situations.
Comments
comments